India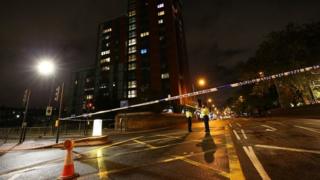 A toddler is in a critical condition in hospital after falling from a block of flats in east London.
The Met Police were called to East India Dock Road in Poplar shortly after 18:50 BST on Monday to reports that a child had "fallen from a height".
The boy was taken to a specialist hospital for treatment. No arrests have been made in the inquiry.
A security guard at the tower said the family involved were "very nice people" and boy's fall was "just horrible".
The child was treated at the scene by paramedics before being taken to a major trauma centre.
A resident at the block, who did not want to be named, said she saw people outside with the child before emergency services arrived.
"They were trying to help but they did not know what to do," she said.
India 'Large windows'
Other residents living in the tower have spoken of their concerns about the building's windows, which can be opened wide on some settings.
Lydia Best, 50, said she was "very scared about the windows" and she only ever opened them "a little bit, even when it is hot".
Ranjit Naik said the "quite large" windows were also "something I worry about".
The 43-year-old father of two said he keeps the keys in the locks so his own children are not able to get to them.
A road closure was put in place at East India Dock Road's junction with Chrisp Street and Newby Place but the route has since been re-opened.
People who witnessed what happened or have footage have been asked to contact police.